2023 Teacher of the Year
2 months ago
South High English Language Arts teacher Paul Weatherford was announced as Laramie County School District 1's 2023-2024 Teacher of the Year.
He was notified of the award during a surprise all-school assembly in the South High commons area on Friday, May 12 and will be recognized by the LCSD1 Board of Trustees at their May 15 meeting.
Weatherford has been with LCSD1 since 2013, when he worked as a Title I Tutor at Arp Elementary. In 2014, he became a teacher at McCormick Junior High before transferring to South in 2017. He teaches senior English and Advanced Placement (AP) literature and composition.
"Paul is a master teacher when it comes to building meaningful relationships with students," South High social studies teacher and LCSD1's 2022-2023 Teacher of the Year Erin Lindt said. "Every student in his classroom feels like they are valued, accepted and validated."
Weatherford holds a master's degree and a bachelor's degree from the University of Wyoming.
"To say that Mr. Weatherford is an incredible teacher is an understatement," South sophomore Lilyahna Christopherson said. "He has been one of the best teachers I've had and a guiding force and mentor in my life."
"He genuinely knows his students and their interests and builds their lives into his instruction. This is the definition of student-centered learning," Christopherson added.
Weatherford is known for incorporating music into his lessons. His students have said that he softly plays the guitar to reduce stress while they work and that he will make raps to keep his lessons engaging and fun.
He will move on to represent the district in the Wyoming Teacher of the Year competition.
To be selected as the LCSD1 Teacher of the Year, teachers are nominated by students, staff or any other member of the community. Teachers then must fill out an extensive application form, which is reviewed by a selection committee made up of LCSD1 staff from diverse roles and departments in the district, as well as community members.
This year, 20 nominees turned in applications. The selection committee scored the applications and chose three finalists for a final interview.
Along with Weatherford, this year's finalists were Central High's Liz Edington and Julie Grant.
Also nominated were Tom Anadiotis, Shelby Brown, Travis Burns, Ishmael Campbell, Ann Christopherson, Marie Havel, Gabriele Kramer, Michelle Maher, Amber Mathisen, Ron Morgan, Courtney Paul, Karen Perez-Sapien, Jennifer Ponce, Talan Premer, Eliza Roth, Dawn Wiley and Lindsey Woods.
All nominees that applied were recognized at the May 15 Board meeting.
Educational Support Person of the Year
2 months ago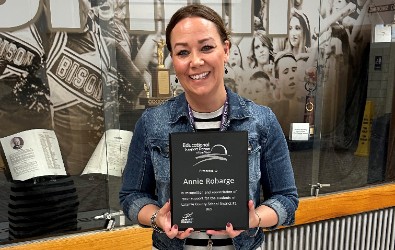 Nineteen Laramie County School District 1 staff members were recognized at the LCSD1 Board of Trustees meeting on Monday, May 1 for being nominated for the Educational Support Person of the Year (ESPY) award.
These individuals were nominated by their fellow staff, their students or other community members for displaying a level of professionalism and dedication worthy of this award. This year, the ESPY selection committee chose to award both a staff member that directly works with students regularly and a staff member that supports the district in other ways.
Annie Robarge, a behavior intervention specialist (BIS) at McCormick Junior High, was chosen as the direct staff member to win the ESPY award. Robarge has been a BIS with LCSD1 since 2017 and was an early childhood special education teacher at the STRIDE Learning Center before that. According to her nomination form, Robarge "is completely devoted to her students. She is constantly having conversations with each and every one to build trusting relationships and find out what each individual student needs to be successful."
The second award was given to LCSD1 Executive Assistant Dawn Guffey. Guffey has been working with LCSD1 for nearly 21 years and her son graduated from LCSD1. "One of the most important attributes of Ms. Guffey is that she cares about people," Guffey's nomination form states. "She is organized, available to support staff who need direction, and she problem-solves situations to make the district run more efficiently."
Guffey and Robarge were chosen out of five finalists, which also included Executive Assistant Darlene Davis, Teresa Sanchez-Aguilar, who is an Individualized Education Program (IEP) support paraprofessional at East High; and McCormick Junior High nurse Brenda Wrede.
Also nominated were Brittany Alvarado, Yvette Crile, Caitlin Dixon, Corinne Ellis, Stacy Gillotti, Jill Guthrie, Jessica Hogan, Judith Hurley, Sue Padilla, Madori Presley, Tracy Reinke-Meena, Trevor Nowotny, Kim Stacey and Tammy Stevens.
LCSD1 thanks all of these nominees for their great work.
Sorry, but there was nothing found. Please try different filters.