District News
LCSD1 Board of Trustees appoints Newton as interim superintendent
During their meeting on Monday, Sept. 11, the Laramie County School District 1 Board of Trustees voted to approve the appointment of Dr. Stephen Newton as the district's interim superintendent of schools.

Newton, who has spent nearly 30 years in the education field, has been the district's acting superintendent since early August. He will serve as interim superintendent through June 2024.
Since 2015, Newton has been LCSD1's director of instruction. In that role he has directed curriculum, instruction, assessment, accreditation, interventions, professional development, interventions, athletics/activities and federal programs.
Newton is also an adjunct professor at the University of Wyoming for the graduate school in the college of education and served as a professional learning consultant for the Center for Model Schools.
He started his career as a high school teacher in 1995 at Parker Unified School District #27 in Parker, Arizona. Newton then served as an academic professional for the University of Wyoming before assuming a position as a high school teacher at LCSD1's Central High.
He became an assistant principal at McCormick Junior High before joining Central High as associate principal and then head principal.
Newton graduated from the University of Wyoming (UW) with a bachelor's degree in biology. He also holds a master's degree in education, educational leadership and a doctorate in education, curriculum and instruction from UW.
According to LCSD1 Board Chairman Timothy Bolin, the trustees will begin a formal search for a permanent superintendent. More information, including a hiring timeline, will be released soon.
2023-2024 sports physical deadlines
To participate in secondary sports in the 2023–2024 school year, Laramie County School District 1 students must complete a sports physical. To be valid, the physical must have been completed after May 1, 2023. Below are the deadlines for the physicals:
Fall Sports
Volleyball, Cross Country, Girls Swim – Aug. 14
Cheer/Dance – Aug. 14
Winter Sports
Girls & Boys Basketball – Nov. 20
Girls & Boys Wrestling – Nov. 20
Boys Swimming – Nov. 27
Indoor Track – Jan. 2, 2024
Spring Sports – 2024
Girls & Boys Soccer – March 4
Outdoor Track – March 4
Softball – March 4
Spring Golf – March 25
Spring Tennis – March 25
LCSD1 student services coordinator earns WASEA scholarship
Tyler Schwirtz, a student services coordinator for Laramie County School District 1, was recently awarded the Larry Newland scholarship from the Wyoming Association of Special Education Administrators (WASEA).
Schwirtz met the requirements for the scholarship by having a strong desire for an administrative position in special education, being currently employed as a special education administrator and being currently enrolled in a graduate program leading to an administrative degree.
He will receive $2,000 and will be able to attend the WASEA conference in September.
WASEA is comprised of special education directors from across the state of Wyoming. They provide training to special education directors and provide input to the Wyoming Department of Education regarding special education practices, law and funding.
Paul Weatherford named LCSD1 2023 Teacher of the Year
South High English Language Arts teacher Paul Weatherford was announced as Laramie County School District 1's 2023-2024 Teacher of the Year.
He was notified of the award during a surprise all-school assembly in the South High commons area on Friday, May 12 and will be recognized by the LCSD1 Board of Trustees at their May 15 meeting.
Weatherford has been with LCSD1 since 2013, when he worked as a Title I Tutor at Arp Elementary. In 2014, he became a teacher at McCormick Junior High before transferring to South in 2017. He teaches senior English and Advanced Placement (AP) literature and composition.
"Paul is a master teacher when it comes to building meaningful relationships with students," South High social studies teacher and LCSD1's 2022-2023 Teacher of the Year Erin Lindt said. "Every student in his classroom feels like they are valued, accepted and validated."
Weatherford holds a master's degree and a bachelor's degree from the University of Wyoming.
"To say that Mr. Weatherford is an incredible teacher is an understatement," South sophomore Lilyahna Christopherson said. "He has been one of the best teachers I've had and a guiding force and mentor in my life."
"He genuinely knows his students and their interests and builds their lives into his instruction. This is the definition of student-centered learning," Christopherson added.
Weatherford is known for incorporating music into his lessons. His students have said that he softly plays the guitar to reduce stress while they work and that he will make raps to keep his lessons engaging and fun.
He will move on to represent the district in the Wyoming Teacher of the Year competition.
To be selected as the LCSD1 Teacher of the Year, teachers are nominated by students, staff or any other member of the community. Teachers then must fill out an extensive application form, which is reviewed by a selection committee made up of LCSD1 staff from diverse roles and departments in the district, as well as community members.
This year, 20 nominees turned in applications. The selection committee scored the applications and chose three finalists for a final interview.
Along with Weatherford, this year's finalists were Central High's Liz Edington and Julie Grant.
Also nominated were Tom Anadiotis, Shelby Brown, Travis Burns, Ishmael Campbell, Ann Christopherson, Marie Havel, Gabriele Kramer, Michelle Maher, Amber Mathisen, Ron Morgan, Courtney Paul, Karen Perez-Sapien, Jennifer Ponce, Talan Premer, Eliza Roth, Dawn Wiley and Lindsey Woods.
All nominees that applied will be recognized at the May 15 Board meeting.
Board of Trustees recognizes Employee of the Year nominees, winners
Nineteen Laramie County School District 1 staff members were recognized at the LCSD1 Board of Trustees meeting on Monday, May 1 for being nominated for the Educational Support Person of the Year (ESPY) award.
These individuals were nominated by their fellow staff, their students or other community members for displaying a level of professionalism and dedication worthy of this award. This year, the ESPY selection committee chose to award both a staff member that directly works with students regularly and a staff member that supports the district in other ways.
Annie Robarge, a behavior intervention specialist (BIS) at McCormick Junior High, was chosen as the direct staff member to win the ESPY award. Robarge has been a BIS with LCSD1 since 2017 and was an early childhood special education teacher at the STRIDE Learning Center before that. According to her nomination form, Robarge "is completely devoted to her students. She is constantly having conversations with each and every one to build trusting relationships and find out what each individual student needs to be successful."
The second award was given to LCSD1 Executive Assistant Dawn Guffey. Guffey has been working with LCSD1 for nearly 21 years and her son graduated from LCSD1. "One of the most important attributes of Ms. Guffey is that she cares about people," Guffey's nomination form states. "She is organized, available to support staff who need direction, and she problem-solves situations to make the district run more efficiently."
Guffey and Robarge were chosen out of five finalists, which also included Executive Assistant Darlene Davis, Teresa Sanchez-Aguilar, who is an Individualized Education Program (IEP) support paraprofessional at East High; and McCormick Junior High nurse Brenda Wrede.
Also nominated were Brittany Alvarado, Yvette Crile, Caitlin Dixon, Corinne Ellis, Stacy Gillotti, Jill Guthrie, Jessica Hogan, Judith Hurley, Sue Padilla, Madori Presley, Tracy Reinke-Meena, Trevor Nowotny, Kim Stacey and Tammy Stevens.
From left to right: Board Vice Chairman Christy Klaassen and finalists Darlene Davis, Teresa Sanchez-Aguilar and Brenda Wrede.
LCSD1 thanks all of these nominees for their great work.
ASBO recognizes LCSD1 for excellent budget presentation
The LCSD1 Finance Department. From left to right: Chris Martinez, Tammy Maret, Shawne Metzler, Jed Cicarelli, Christell Gomez, Brenda Skarohlid, Tina Bates.
Ashburn, VA – February 15, 2023 – The Association of School Business Officials International (ASBO) is proud to recognize Laramie County School District 1 for excellence in budget presentation with the Pathway to the Meritorious Budget Award (MBA) for the 2022–2023 budget year.

ASBO International's MBA and Pathway to the MBA promote and recognize best budget presentation practices in school districts. Participants submit their applications and budget documents to a panel of school financial professionals who review the materials for compliance with the MBA Criteria Checklist and other requirements and provide expert feedback that districts can use to improve their budget documents.
Districts that successfully demonstrate they have met the necessary program requirements may earn either the MBA or Pathway to the MBA, an introductory program that allows districts to ease into full MBA compliance.

"Districts that apply to the MBA or Pathway to the MBA programs recognize the importance of presenting a quality, easy-to-understand budget internally and to the community," ASBO International COO/Interim Executive Director Siobhan McMahon said. "Participating in the MBA and Pathway programs provides districts with important tools and resources they need to communicate the district's goals and objectives clearly and illustrates their commitment to adhering to nationally recognized budget presentation standards."

About ASBO International:
Founded in 1910, the Association of School Business Officials International (ASBO) is a nonprofit organization that, through its members and affiliates, represents approximately 30,000 school business professionals worldwide. ASBO International is committed to providing programs, services, and a global network that promote the highest standards in school business. Its members support student achievement through effective resource management in various areas ranging from finance and operations to food services and transportation. Learn more at asbointl.org.
Prekindergarten registration to be held March 1-15
Student readiness is a top priority at Laramie County School District 1, which why the district will continue efforts to expand prekindergarten offerings. Online prekindergarten registration will be held from March 1-15.
During the 2023-2024 school year, two programs will be offered: Title I and Tuition Based.
Families who reside within the boundaries of Afflerbach, Alta Vista, Arp, Baggs, Cole, Goins, Hebard, Lebhart and Rossman elementary schools are eligible to attend the Title I funded program at their neighborhood school. Registration must be complete prior to the end of the day on March 15 to be considered. Students will be chosen based on a random lottery process.
In addition, LCSD1 will again be offering tuition-based prekindergarten programs at Anderson and Pioneer Park elementary schools. Students may live anywhere within the district's boundaries and seats are available on a first-come, first served basis. Tuition is $700 per month. A sliding fee scale is also available with income verification.
Both Title I and Tuition Based are full-day programs with certified teachers offering reading, writing and math instruction. Students also have access to P.E., music, art, and STEM (science, technology, engineering and math), as well as breakfast and lunch options.
Any child who has turned 4 years old by Aug. 1, 2023 is eligible to attend. Children who have turned 5 years old on or before Aug. 1, 2023 are eligible for kindergarten.
To register, visit the district's website, www.laramie1.org. Look for the green box titled "online registration" on the homepage and select the "new student" button.
Once online registration is complete parents must contact their school of choice to finalize their enrollment in the program.
For assistance with online registration, contact the LCSD1 service desk at 771-2242 or servicedesk@laramie1.org. For more information about the prekindergarten programs, contact Stephanie Bogue at 771-2187.
Laramie County School District 1 spotlighted in University of Virginia Partnership for Leaders in Education Report on K12 Systems Innovation
Laramie County School District 1 was recently spotlighted by University of Virginia's Partnership for Leaders in Education (UVA/PLE) as a district that is leading the way to embrace transformations in education following the COVID-19 pandemic. The "New Frontiers" report was released yesterday and recognized Laramie County School District 1 for increasing student readiness and post-secondary education.
"PLE is one of the nation's top leadership programs for educators," LCSD1 Superintendent Dr. Margaret Crespo said. "Seeing our transformative work spotlighted in their national report on the New Frontiers of education further validates that our educators, administrators and community partners are making strides in the much-needed work to accelerate learning and rethink education."
As part of the Student Readiness strand of LCSD1's Strategic Plan, conversations with stakeholders revealed community interest in students' participating in dual enrollment courses. However, after meeting with students the district team learned students were not enrolling in part because the schedule interfered with courses needed back at their high schools. With this knowledge in hand, schedules were changed, and the information was communicated. LCSD1 leaders anticipate dual enrollment course participation will more than triple.

"At Laramie County School District 1, our goal is to prepare students for their future through an engaging and enduring education," Crespo said. "By making this change we are now able to provide our students with the opportunity to enroll in these programs and graduate from high school with college credit."
Following years of challenges brought on by COVID-19 and the inequities in education highlighted by the pandemic, decades- and centuries-old educational systems are finally being challenged. The report argues that education systems and dynamic leaders that embrace change will succeed and create an educational environment that is more equitable and prepares students for their futures.
"Our New Frontiers report spotlights the most successful education leaders who are courageously rising to the moment and making once-in-a-generation investments and changes to their educational systems for the benefit of their students, their staff and their communities," said William Robinson, executive director of UVA-PLE and co-author of the New Frontiers report. "Districts like Laramie County School District 1 that innovate and embrace change will thrive, and the districts that choose to ignore or, worse, resist transformation put themselves and their students at risk."
In New Frontiers, UVA-PLE identifies four key areas of focus needed for change and innovation in K-12 educational systems:
Innovative Secondary Models - a commitment to changing the secondary model to enhance student pathways and ensure access to opportunities for every student, along with a recognition that investments in education are investments in the future economy;
●Far-Reaching Academic Acceleration - a focus on accelerating student learning post-pandemic instead of on learning recovery;
●Creative Staffing - new and innovative pathways to recruit, train and invest in teachers and matching education talent pipelines with student needs;
●Equitable Resource Reallocation - rethinking organizational design and resource allocated to align with priority breakthroughs, student needs, and a deep commitment to eradicating gaps and inequality.
UVA-PLE, a leading organization focused on advancing leadership capacity and insights to create transformational school systems, developed the report with research and feedback from nearly 50 education leaders and superintendents across the nation. Those districts and systems have successfully implemented changes and innovations since the pandemic start. The report also includes vignettes, case examples, and recommendations for transforming our systems to better serve students and families.
About UVA-PLE
The Partnership for Leaders in Education (UVA-PLE) is a unique joint venture between the highly ranked University of Virginia's Darden School of Business and School of Education and Human Development. UVA-PLE advances leadership capacity building and insights to help leaders courageously create conditions to respond to their communities needs and demonstrably improve educational and life outcomes for our nation's students.
Arp Ambassadors help school, community
As a district, we have highlighted Student Readiness, Community Engagement and Healthy Environment as the three most important areas of focus to offer our students. However, as students such as the Arp Ambassadors can show us, improvements in those three areas can come from all directions.
The Arp Ambassadors present their PEEPS donation and are rewarded at the Feb. 6 LCSD1 Board of Trustees meeting. Back (left to right): Yareli Felix Zubia, Board Clerk Alicia Smith (seated), Luiza Gracia, Parent Engagement Facilitators Hope Person and Laura Fowler, teacher Kendall Ceballos, Arp Principal Steve Loyd and teacher Nicole Hayes. Front (left to right): Angelina Meza, Olivia Elsasser, Keelie Roetman, Tayla Nevarez and Jonah Mannier.
At Arp Elementary School, student leaders have been making strides to help their fellow students, their school and their community. Recently, the Ambassadors conducted a "Penny Wars" fundraiser, for which classrooms competed to fill an empty container with pennies and bills for points. Silver coins could be added to another classroom's jar to deduct points. In total, the fundraiser earned $3,400, which was shared between Arp and LCSD1's Parent Engagement and Educational Partnerships with Schools (PEEPS) program.
Olivia Elsasser, a fifth grader and Arp Ambassador, said, "I helped sort the money into positive and negative (point) amounts. I felt happy when it was complete because we gave PEEPS $1,704 to refill their donation closet."
The Arp Ambassadors were recognized at the LCSD1 Board of Trustees meeting on Feb. 6 for their success.
Penny Wars is just one of several programs the Arp Ambassadors have helmed. They have also conducted projects such as canned food drives, Day of Giving, cold-weather gear drives, and the "Socktober" drive, where the Ambassadors collected 1,654 pairs of socks which were donated to the COMEA House and Resource Center, the Cheyenne Foster Closet and Needs.
While helping the greater Cheyenne community, the ambassadors also help their school in a variety of ways. Kendall Ceballos, second grade teacher and director of the Ambassador program, said that they have raised money for extra trash cans in front of their building and fence tiles to decorate their playground. They have also held talent shows at their school.
"Everything we do ties back to our essential questions: what are we doing to make the community a better place, and what are we doing to make our school a better place?" Ceballos said.
Ceballos said the Ambassador program was created as a change to the student council program.

Arp Ambassador Yareli Felix Zubia speaks at the Feb. 6 board meeting.
"We wanted to take out the election piece and make it more of an interview process to find the leaders of Arp to help promote our community in school," she said. "Students will apply, then a panel will look at the applications and choose based off of their application, attendance and school behavior."
After the ambassadors are selected, they sign a behavior and attendance contract.
One ambassador, Angelina Meza, said she applied because she wants to help other people. Keelie Roetman said she wants to make the school a "fun place to be" for staff and students. Tayla Nevarez said she wants to help stop bullying, Olivia Elsasser said she wants to keep students informed on how to stay involved with their school, and Gabe Campos said he applied to help with fundraisers that make their school and community better.
Though they may have applied for a variety of reasons, the student leaders that become Arp Ambassadors say their overall goal is to make their school and community a better place.
"(The Ambassador program) is allowing kids to come out of their shell," Ceballos said. "It builds their confidence in a positive way and allows them to feel comfortable voicing their opinion, and knowing that they can make a difference, even when it's just them."
Ceballos said she has also seen ambassadors help handle uncomfortable situations on the playground or take on the role of positive leaders when substitutes or guests are in the building. She said the ambassadors come to her with fundraising ideas or school activities that they've heard from a classmate, "which is awesome because it's building the community."
Arp Ambassador Tayla Navarez said she thinks the Ambassador program should spread throughout the community.
"I would be happy if other schools had an ambassador program because it would help more schools and more parts of our community," Nevarez said.
—Text by Brad White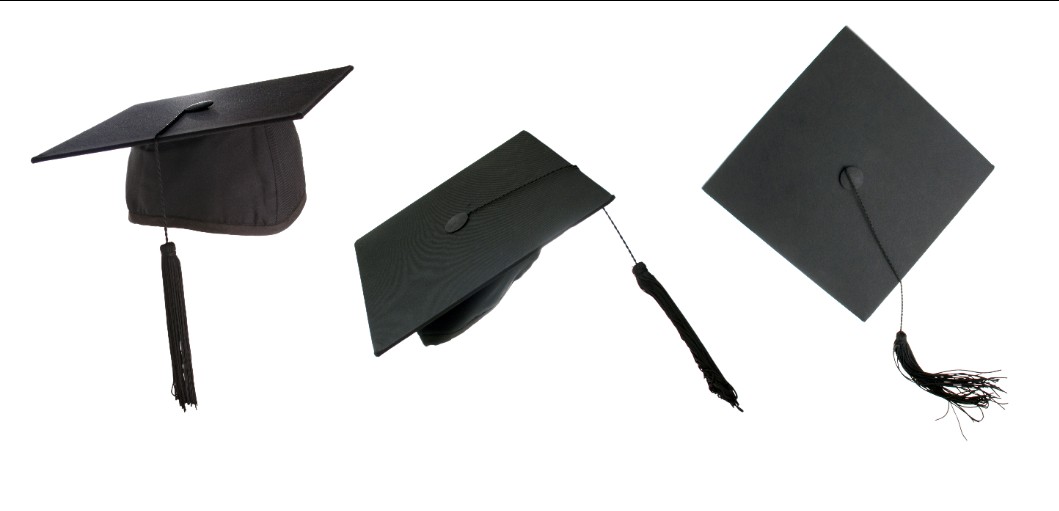 2022 graduation rate at 80.14%
Laramie County School District 1's four-year graduation rate reached 80.14% in the 2021-2022 school year.
"In spite of the challenges this cohort of students experienced, we are very proud of their success and perseverance to graduate on time," Superintendent Dr. Margaret Crespo said.
Graduation rates for students with Individual Education Plans (IEPs) increased 15% over the past two cohorts. The district also saw a significant increase in our minority populations across the district with an 82.3% rate. This is 13.2% increase over the same time period.
"As freshmen coming into high school in 2018, we realize our students were faced with unique challenges in navigating a high school experience by the end of their cohort year of 2022," Assistant Superintendent of Instruction Jim Fraley said. "The Wyoming Department of Education begins the four-year timeframe for all students to graduate as soon as they begin ninth grade. Students beginning their high school transition as freshmen experienced uncertainty and a path they had not undergone in prior years. Some chose virtual learning, home school, pursued a GED program, or even took a 'time out' from school to adapt to a changing environment. Oftentimes, these students then fall out of their cohort track to graduate on time."
Crespo said, "We would like to acknowledge our amazing staff and students for their hard work. The pandemic posed several challenges for our students, staff and families. This is a testament to all the tireless work within our schools as they managed these unique circumstances.
"Moving forward, we will continue to provide support for every child as we work together to address the growth opportunities for our students as a means to increasing our graduation rate. The district recognizes the importance of giving every student the opportunity to graduate."
Students who did not meet the graduation deadline for their four-year cohort are still eligible for late graduation.
"We celebrate a completion rate that continues to show the promise of not giving up on students even when they do not meet the four-year cohort benchmark," Crespo said. "Through a comprehensive and collaborative team approach, LCSD1 will respond by adapting to meet the needs of our learners in the district. Our goal is to ensure that our students remain on track to graduate."
For more information on LCSD1 graduation rates for the 2021-2022 school year, please visit the Wyoming Department of Education website or call 771-2188.
Returning families with students enrolled in Laramie County School District 1 schools will complete annual online registration and address verification Jan. 23-Feb. 10 using their Infinite Campus portal account.
As part of registration, families are required to review and update their students' information as well as verify their address. Examples of suggested forms of address verification include:
Rental agreement, purchase agreement or electric/gas bill.
Documents of public agencies; e.g., courts, Department of Family Services medical coupon or showing parent's or guardian's or adult student's name and address.
Official court documents establishing a legal guardianship and the guardian's residency.
Parents/guardians without proof of residency documentation are advised to contact their neighborhood school for enrollment assistance.
To allow families more flexibility, parents/guardians who would like their child to attend a school other than their neighborhood school should submit a boundary waiver form. Forms will be accepted through April 30.
All families should complete registration by Feb. 10 to ensure their child's seat is reserved.
To save time, returning families may log into their Infinite Campus parent portal. The online registration application will be pre-populated with your information. User name and password will be needed. For assistance, contact the Service Desk at 771-2242. During the online registration window, the Service Desk will be operating with extended hours and will be available Monday-Thursday from 7 a.m.-6 p.m., Friday from 7 a.m.-4 p.m., and Saturday from 8:30-11:30 a.m.
Kindergarten families who are not yet enrolled may do so as a new family registration. If these students have older siblings who are already enrolled, they will be added to their families' application as new students. Proof of address, birth certificate or passport, and current immunization records must be provided. For enrollment assistance, contact your neighborhood school.
Kindergarten students must be 5 years old on or before Aug. 1, 2023. If your child turns 5 years old between Aug. 1 and Sept. 15, information about early entry may be obtained through your neighborhood school principal.
In early June, parents/guardians who have completed registration and address verification will receive notification of their child's school placement for 2023-2024. Those parents/guardians who have completed a boundary waiver by April 30, will also be notified of their child's school placement in early June. If a boundary waiver is submitted after April 30, it will not be considered until after new student registration in August.
Throughout the summer, families new to the district will complete online registration and address verification in person at the district's administration building, 2810 House Ave., or at any of the district's secondary school campuses, except Triumph High. In mid-August, this process will be completed at the student's neighborhood school.
Neighborhood schools can be found by entering the parent/guardian's address on the district website: www.laramie1.org. Click on "About Us," "Who We Are," "School Maps and Boundaries."
Returning elementary students that have moved during the summer have the option to attend school at the location verified in the spring for the upcoming school year (families must provide their own transportation) or may attend their neighborhood school.
Parents/guardians will receive an elementary class list notification in August.
For more information contact the service desk, 771-2242 or servicedesk@laramie1.org.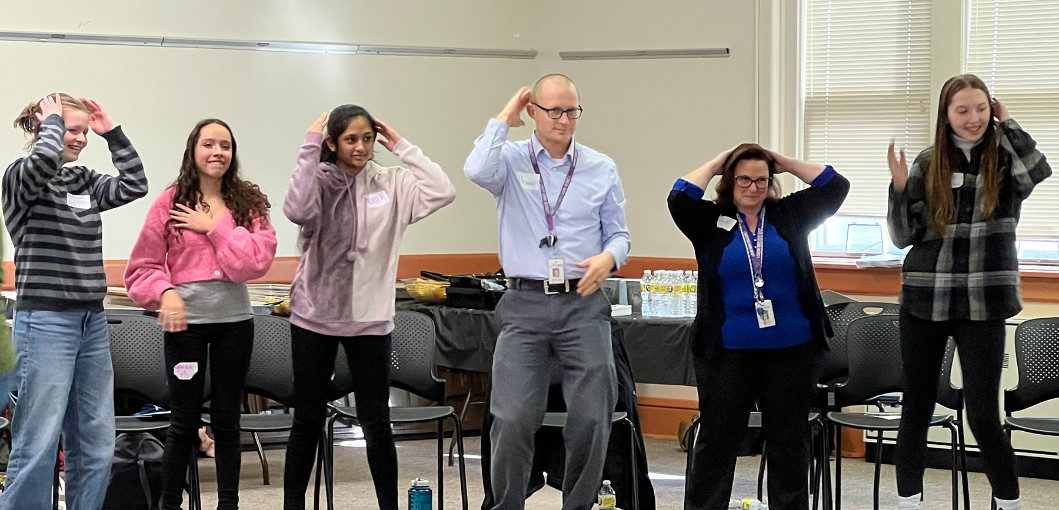 Students, community participate in Sources of Strength Program

Last spring, Laramie County School District 1 Superintendent of Schools Dr. Margaret Crespo issued a call to action, asking the community as a whole to come together to help develop and share tools for youths to deal with harmful situations. The dire need to help our community culminated in the adoption of Sources of Strength, a peer-led program that aims to promote connectedness within communities.
The program uses what it calls an upstream approach in its mission. LCSD1's Violence Prevention Facilitator Chris Zimny said, "We're trying to build in those resiliencies and those strengths in (the students') own lives to where, if they ever have to face something, they've got some tools in their tool belt that they can draw upon to help them through those tough times."
LCSD1 is still working to fully implement the program and to build those resiliencies. Currently, adult advisers have been trained and LCSD1 has started to train SOS peer leaders throughout its schools.

Kaelin VanTassel, a junior at South High School and SOS peer leader, said she agreed to become a peer leader because she knew that many people throughout her school would benefit from the information SOS had to offer.
"I figured even if I personally didn't struggle with the concepts being prevented at Sources of Strength, the least I could do is learn how to help many of my peers who I know do struggle," VanTassel said.
Peer leaders such as VanTassel will direct student-led campaigns to increase student resilience using the eight sources of strength: family support, positive friends, mentors, healthy activities, generosity, spirituality, physical health and mental health.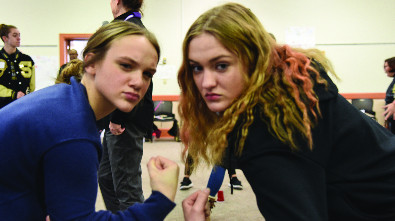 "My experiences with the program so far have been very positive. My leadership class, almost immediately returning from our day at Sources of Strength (training), was overflowing with ideas of how we can input the concepts from Sources of Strength into our school," VanTassel said.
VanTassel said she has several campaign ideas she is excited to implement in the future.
"The kids are the agents of change," LCSD1 Access and Opportunity Coordinator Drew Hall said. "This is their school district. They want to leave it better than how they received it. You feel it in the room."
Regan Dulaney, a teacher at South and an SOS adult adviser, said it has been great to see peer leaders getting into their groups and to see students sharing their experiences and knowledge with each other, giving them a chance to build trust and cooperation as a team.
"One thing I am most impressed with is the students that are working on presenting the SOS materials and information to the staff at South at a staff meeting. The students are not always excited to do presentations in class, so the fact that they want to present to the whole staff is really indicative of how excited they are about this opportunity, and also how passionate they are becoming with the program," Dulaney said.

The Sources of Strength program is funded by a county-wide substance use and suicide prevention grant. Brittany Wardle, the community prevention project director for Cheyenne Regional Medical Center, said she asked LCSD1 to be a part of the program because SOS is peer-led and it focuses on many aspects of life.
"That's the beauty of this particular program. It's not so focused in one area because I think we know, especially for developing adolescents, the experiences that they're having at home, maybe after school programs, in their neighborhood and their sports; all of that looks very different for each individual kid," Wardle said.
"Wellness just is a multifaceted experience for all of us, and very different," Wardle said. "So I think that the benefit (SOS) brings is it's not just that one focus, it's across the board."
In addition to work within the schools, LCSD1 has been training organizations throughout the community in Sources of Strength. These include the Cheyenne Regional Medical Center behavioral health staff, Youth Alternatives, Volunteers of America, F.E. Warren Youth Services, Laramie County Community Partnership, and Mayor Patrick Collins and his cabinet, to name a few.

The LCSD1 Sources of Strength implementation team, which is comprised of Zimny, Hall and LCSD1 Parent Engagement Facilitator Laura Fowler, is continuing to work on spreading the training around the Cheyenne community. Fowler said the team is willing to help any community member who is interested in getting involved.
"We would welcome any questions; we would love to present to anybody; we'd love to talk to anybody about it," Fowler said.
Hall said the program is already empowering students to use their voice.
"It's already building connectedness toward adults just by having adults in the room, just bringing in awareness that, hey, our kids are willing to put in this work and they just need you to stand beside them," Hall said.
Text by Brad White

2022 Trike Giveaway rolls out with success

Prairie Winds student Avi Williams and Davis student Bentley Weese test out their new tricycles. Courtesy photos.
Many students are sure to be seen rolling around in style after this year's Trike Giveaway, which gave 36 Laramie County School District 1 students the opportunity to receive a Rifton Adaptive Tricycle.
LCSD1 Physical Therapist Kacie Pugel said the tricycles are made to allow students of various physical and cognitive abilities to ride a bike like any child should.
"These trikes are also very expensive, and most families cannot afford one of their own," Pugel said.
The tricycles were given to children in the LIFE or PALS programs, or who are receiving physical therapy services from the district.
"Many students with higher cognitive or physical needs never have the opportunity to ride along with their families or peers," Pugel said. "We wanted to provide our families with a little piece of normalcy in life and their child with an important part of being a kid­—riding a bike!"
Bentley Weese, a student at Davis Elementary who received a tricycle from the giveaway, was enthusiastic about his new ride. "It's good, I ride it every day," Weese said. He also agreed that the tricycle is making him stronger.
Pugel said the tricycles were funded by the Cheyenne Rotary Club with a 40% discount from Rifton. Cheyenne Firefighters Local 279 housed all the trikes, hosted the giveaway and helped deliver tricycles to those who were unable to transport them.
"(The Cheyenne) Rotary Club and Cheyenne Fire are very integral parts of the Cheyenne community. We were all able to work together to create this amazing giveaway that impacted many families in our community in such a positive way," Pugel said.
Pugel also said she hopes that the giveaway will continue each year, even in a small capacity. She also hopes that future giveaways will provide various options for children who would benefit from different pieces of equipment, such as bike trailers that they can ride along in.
"It's hard to meet the needs of every student in our community. I am just so happy we could reach 36 this year!" Pugel said.