District News
Returning families with students enrolled in Laramie County School District 1 schools will complete annual online registration and address verification Jan. 23-Feb. 10 using their Infinite Campus portal account.
As part of registration, families are required to review and update their students' information as well as verify their address. Examples of suggested forms of address verification include:
Rental agreement, purchase agreement or electric/gas bill.
Documents of public agencies; e.g., courts, Department of Family Services medical coupon or showing parent's or guardian's or adult student's name and address.
Official court documents establishing a legal guardianship and the guardian's residency.
Parents/guardians without proof of residency documentation are advised to contact their neighborhood school for enrollment assistance.
To allow families more flexibility, parents/guardians who would like their child to attend a school other than their neighborhood school should submit a boundary waiver form. Forms will be accepted through April 30.
All families should complete registration by Feb. 10 to ensure their child's seat is reserved.
To save time, returning families may log into their Infinite Campus parent portal. The online registration application will be pre-populated with your information. User name and password will be needed. For assistance, contact the Service Desk at 771-2242. During the online registration window, the Service Desk will be operating with extended hours and will be available Monday-Thursday from 7 a.m.-6 p.m., Friday from 7 a.m.-4 p.m., and Saturday from 8:30-11:30 a.m.
Kindergarten families who are not yet enrolled may do so as a new family registration. If these students have older siblings who are already enrolled, they will be added to their families' application as new students. Proof of address, birth certificate or passport, and current immunization records must be provided. For enrollment assistance, contact your neighborhood school.
Kindergarten students must be 5 years old on or before Aug. 1, 2023. If your child turns 5 years old between Aug. 1 and Sept. 15, information about early entry may be obtained through your neighborhood school principal.
In early June, parents/guardians who have completed registration and address verification will receive notification of their child's school placement for 2023-2024. Those parents/guardians who have completed a boundary waiver by April 30, will also be notified of their child's school placement in early June. If a boundary waiver is submitted after April 30, it will not be considered until after new student registration in August.
Throughout the summer, families new to the district will complete online registration and address verification in person at the district's administration building, 2810 House Ave., or at any of the district's secondary school campuses, except Triumph High. In mid-August, this process will be completed at the student's neighborhood school.
Neighborhood schools can be found by entering the parent/guardian's address on the district website: www.laramie1.org. Click on "About Us," "Who We Are," "School Maps and Boundaries."
Returning elementary students that have moved during the summer have the option to attend school at the location verified in the spring for the upcoming school year (families must provide their own transportation) or may attend their neighborhood school.
Parents/guardians will receive an elementary class list notification in August.
For more information contact the service desk, 771-2242 or servicedesk@laramie1.org.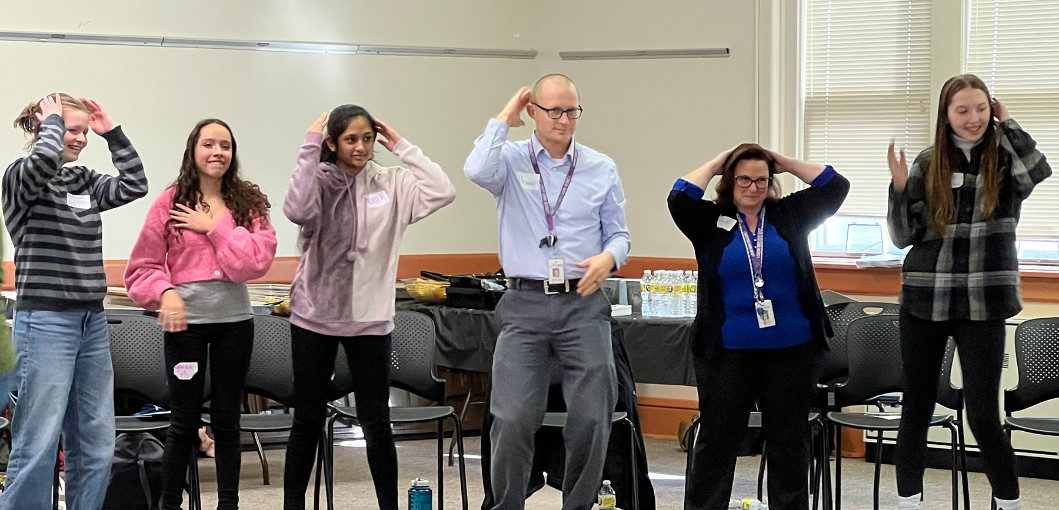 Students, community participate in Sources of Strength Program

Last spring, Laramie County School District 1 Superintendent of Schools Dr. Margaret Crespo issued a call to action, asking the community as a whole to come together to help develop and share tools for youths to deal with harmful situations. The dire need to help our community culminated in the adoption of Sources of Strength, a peer-led program that aims to promote connectedness within communities.
The program uses what it calls an upstream approach in its mission. LCSD1's Violence Prevention Facilitator Chris Zimny said, "We're trying to build in those resiliencies and those strengths in (the students') own lives to where, if they ever have to face something, they've got some tools in their tool belt that they can draw upon to help them through those tough times."
LCSD1 is still working to fully implement the program and to build those resiliencies. Currently, adult advisers have been trained and LCSD1 has started to train SOS peer leaders throughout its schools.

Kaelin VanTassel, a junior at South High School and SOS peer leader, said she agreed to become a peer leader because she knew that many people throughout her school would benefit from the information SOS had to offer.
"I figured even if I personally didn't struggle with the concepts being prevented at Sources of Strength, the least I could do is learn how to help many of my peers who I know do struggle," VanTassel said.
Peer leaders such as VanTassel will direct student-led campaigns to increase student resilience using the eight sources of strength: family support, positive friends, mentors, healthy activities, generosity, spirituality, physical health and mental health.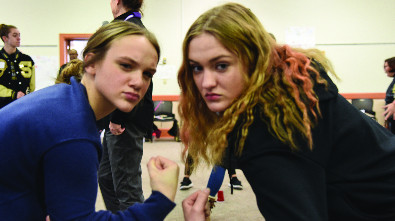 "My experiences with the program so far have been very positive. My leadership class, almost immediately returning from our day at Sources of Strength (training), was overflowing with ideas of how we can input the concepts from Sources of Strength into our school," VanTassel said.
VanTassel said she has several campaign ideas she is excited to implement in the future.
"The kids are the agents of change," LCSD1 Access and Opportunity Coordinator Drew Hall said. "This is their school district. They want to leave it better than how they received it. You feel it in the room."
Regan Dulaney, a teacher at South and an SOS adult adviser, said it has been great to see peer leaders getting into their groups and to see students sharing their experiences and knowledge with each other, giving them a chance to build trust and cooperation as a team.
"One thing I am most impressed with is the students that are working on presenting the SOS materials and information to the staff at South at a staff meeting. The students are not always excited to do presentations in class, so the fact that they want to present to the whole staff is really indicative of how excited they are about this opportunity, and also how passionate they are becoming with the program," Dulaney said.

The Sources of Strength program is funded by a county-wide substance use and suicide prevention grant. Brittany Wardle, the community prevention project director for Cheyenne Regional Medical Center, said she asked LCSD1 to be a part of the program because SOS is peer-led and it focuses on many aspects of life.
"That's the beauty of this particular program. It's not so focused in one area because I think we know, especially for developing adolescents, the experiences that they're having at home, maybe after school programs, in their neighborhood and their sports; all of that looks very different for each individual kid," Wardle said.
"Wellness just is a multifaceted experience for all of us, and very different," Wardle said. "So I think that the benefit (SOS) brings is it's not just that one focus, it's across the board."
In addition to work within the schools, LCSD1 has been training organizations throughout the community in Sources of Strength. These include the Cheyenne Regional Medical Center behavioral health staff, Youth Alternatives, Volunteers of America, F.E. Warren Youth Services, Laramie County Community Partnership, and Mayor Patrick Collins and his cabinet, to name a few.

The LCSD1 Sources of Strength implementation team, which is comprised of Zimny, Hall and LCSD1 Parent Engagement Facilitator Laura Fowler, is continuing to work on spreading the training around the Cheyenne community. Fowler said the team is willing to help any community member who is interested in getting involved.
"We would welcome any questions; we would love to present to anybody; we'd love to talk to anybody about it," Fowler said.
Hall said the program is already empowering students to use their voice.
"It's already building connectedness toward adults just by having adults in the room, just bringing in awareness that, hey, our kids are willing to put in this work and they just need you to stand beside them," Hall said.
Text by Brad White

2022 Trike Giveaway rolls out with success

Prairie Winds student Avi Williams and Davis student Bentley Weese test out their new tricycles. Courtesy photos.
Many students are sure to be seen rolling around in style after this year's Trike Giveaway, which gave 36 Laramie County School District 1 students the opportunity to receive a Rifton Adaptive Tricycle.
LCSD1 Physical Therapist Kacie Pugel said the tricycles are made to allow students of various physical and cognitive abilities to ride a bike like any child should.
"These trikes are also very expensive, and most families cannot afford one of their own," Pugel said.
The tricycles were given to children in the LIFE or PALS programs, or who are receiving physical therapy services from the district.
"Many students with higher cognitive or physical needs never have the opportunity to ride along with their families or peers," Pugel said. "We wanted to provide our families with a little piece of normalcy in life and their child with an important part of being a kid­—riding a bike!"
Bentley Weese, a student at Davis Elementary who received a tricycle from the giveaway, was enthusiastic about his new ride. "It's good, I ride it every day," Weese said. He also agreed that the tricycle is making him stronger.
Pugel said the tricycles were funded by the Cheyenne Rotary Club with a 40% discount from Rifton. Cheyenne Firefighters Local 279 housed all the trikes, hosted the giveaway and helped deliver tricycles to those who were unable to transport them.
"(The Cheyenne) Rotary Club and Cheyenne Fire are very integral parts of the Cheyenne community. We were all able to work together to create this amazing giveaway that impacted many families in our community in such a positive way," Pugel said.
Pugel also said she hopes that the giveaway will continue each year, even in a small capacity. She also hopes that future giveaways will provide various options for children who would benefit from different pieces of equipment, such as bike trailers that they can ride along in.
"It's hard to meet the needs of every student in our community. I am just so happy we could reach 36 this year!" Pugel said.