BOARD OF TRUSTEES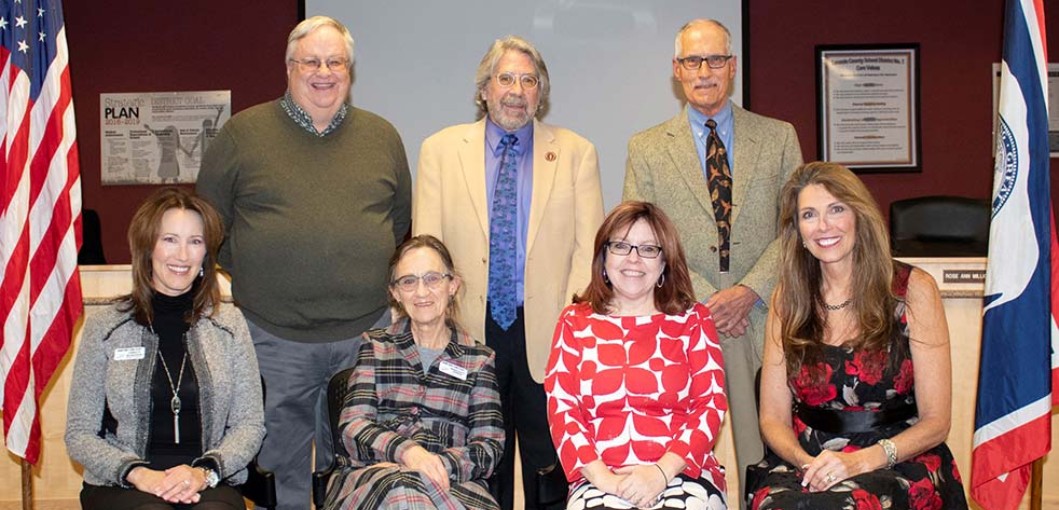 LCSD1 Board of Trustees
Marguerite Herman, Chair
Rose Ann Million Rinne, Vice Chair
Lynn Storey-Huylar, Clerk
Christy Klaassen, Assistant Clerk
Rich Wiederspahn, Treasurer

Tim Bolin, Assistant Treasurer
Nate Breen, Trustee
Mailing address: LCSD1 Board of Trustees, 2810 House Ave., Cheyenne, WY 82001

Annual Report
Laramie County School District 1 has several challenges ahead in 2020—achievement and graduation, facilities, student health and security, and state funding issues. However, I am optimistic and confident that our district has the resources, policies, planning and leadership to forge solutions that respond to the needs of students, families, staff and community.
Cheyenne is blessed with a strong and growing economy, and you need only look at existing housing developments and plans for F.E. Warren Air Force Base expansion to predict we will need more classrooms for the number of students (more than 14,000 today). We also must replace and renovate current facilities. It's a complicated districtwide picture, but we are making a good case to state school construction officials with our "most cost-effective remedy" plan for facility funding.
LCSD1 continuously focuses on improvement for everything we do.
We are undertaking a comprehensive strategic plan that will include measurable goals and will affect every department and program as we strive to provide students a good education in a safe environment.
The district is committed to changes in our mid-level schools to address the historically low achievement by our seventh and eighth graders, compared to the same grade levels across Wyoming. Daily schedules and some elective choices will change.
Actions by a small group of junior high students last spring caused us to take a hard look at our need to make sure all LCSD1 students and staff feel safe and are treated with kindness and respect. Among our responses is the hiring of a diversity coordinator to address needs K–12.
With our commitment to keep the community informed, the Board has been livestreaming and archiving video from our meetings. Soon, we will be streaming and recording the "work sessions" that precede our meetings, where we get reports on a range of issues, from later secondary start times to softball to professional learning communities.
After looking at gender equity in our sports programs and some budget adjustments, the Board voted to add girls' softball to the roster of spring athletics in LCSD1, beginning next year.
The district is coordinating with businesses to design Career Technical Education programs to meet their workforce needs and help our students learn career skills right out of high school.
The Board continues to support the 1 mill recreational levy that raises about $1.7 million a year for school and community recreation facilities and equipment.
The district has a new family engagement program called Parent Engagement and Educational Partnerships with Schools, or "PEEPS." It brings families, educators and community partners together to support the academic success and healthy development of all students.
This list—by no means complete—illustrates our commitment to the education of our students in all grades, with all kinds of needs and goals, in every part of our district. We are committed to high goals, honest assessment and continued improvement.
Marguerite Herman
Chairman of the Board